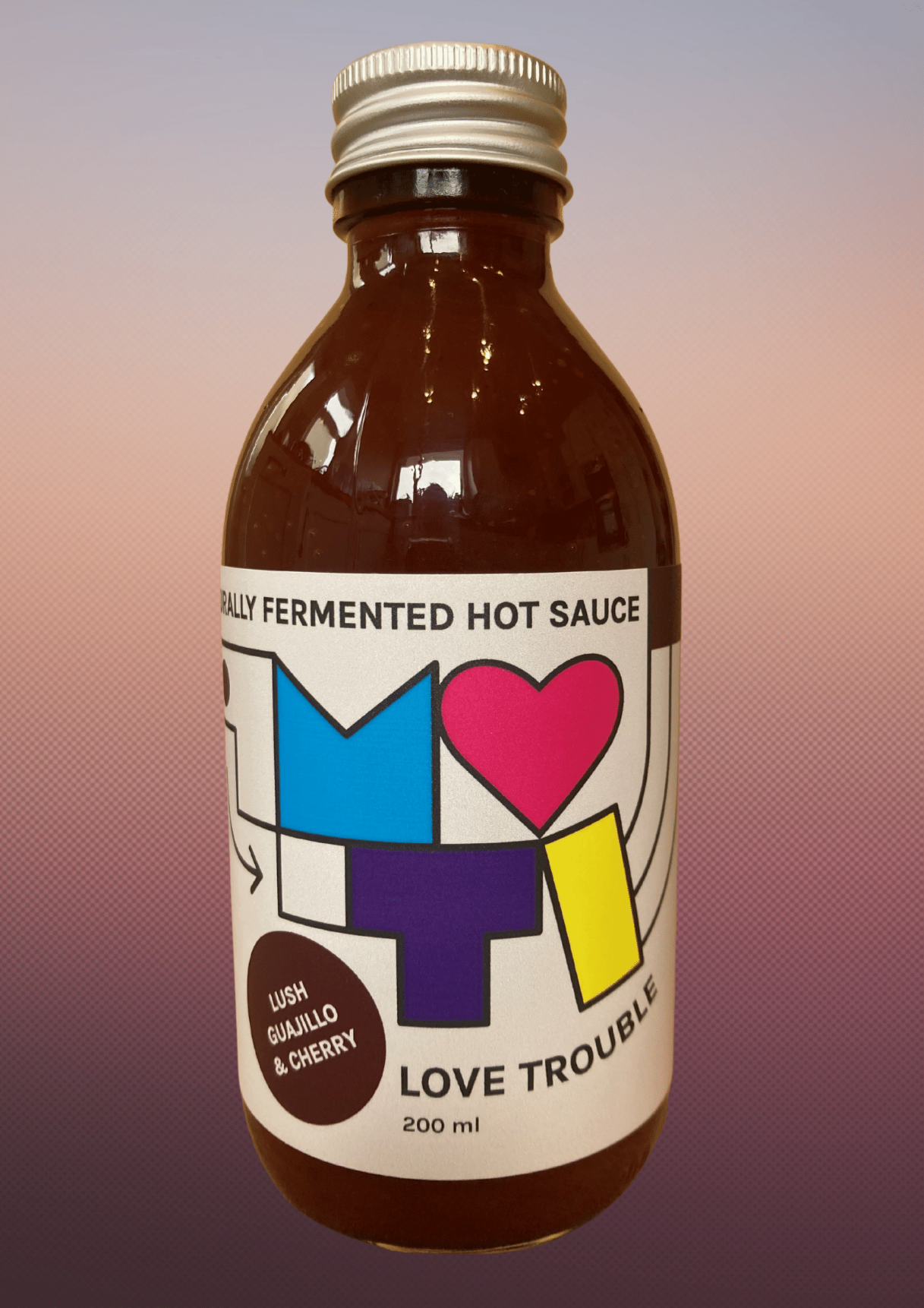 The new limited edition hot sauce from Muti, Love Trouble, is a rich, dark red cherry & guajillo chilli sauce designed specifically for, but not limited to, those who are currectly affected with Long Covid.
For many with Long Covid, now including my wife, plants in the Allium family (onions, garlic, leeks) are completely repellant in both taste & smell & their choices of foods, especially spicy foods, have been limited to those that do not contain this family of plants in their ingredients.
Enter Love Trouble, the ultimate parosmia perk-me-up that will partner grilled & charred vegetables perfectly & lift crispy duck pancakes, or pork belly Ramen to dizzying new heights.
muti fermented hot sauces
Fermented hot sauces packed with vibrancy, flavour & gut nourishing nutrients. Made with fresh ingredients from local independent suppliers & preserved naturally with lactic acid produced during fermentation, they are some of the only vinegar-free hot sauces available in the UK.
Heat levels range from feisty to ferocious, but flavour is always at the heart of a Muti hot sauce. Delicious & complex, these hot sauces will tantalise your tastebuds & lift any meal.
Elevate your eggs, toasties, tacos, grills, stir-fries, soups, & pizza to a whole new level of deliciousness.
Transform your meals & give your gut a healthy boost with these tasty fermented krauts & kimchi. Handmade with the freshest produce from Bristol fruit & veg market, these ferments are raw & teeming with beneficial bacteria.
Containing no less than SEVEN different types of freshly fermented veg, Muti Kimchi is a plant-based twist on the Korean version, with smoky & subtle Mexican chilli varietals mellowing the brighter, more traditional gochugaru chilli. 
Muti krauts are a crisp & refreshing take on traditional sauerkraut. Made with the humble white cabbage & a blend of herbs & spices.
Their natural acidity cuts through the richness of meat & cheese & adds a crunch to sandwiches, burgers, salads, & soups.
 muti delivered Straight to your door
If you live in Bristol postcodes BS1-BS9 you can get Muti delivered straight to your door for free. Click & collect is also available. If you live elsewhere in the UK there is free delivery on orders of £35 & over. There are also fully customisable subscription boxes available, offering the best prices on all the products.
Muti is my nickname & a big part of my identity.
In Southern Africa, where I was born & raised, muti is the word used for medicine & the ancient practice of harnessing powerful natural resources to promote vitality & good health.
I named my brand Muti because it connects to me & because it connects to plants that make you feel good when you eat them.
medicine for the soul
pick up your muti from any of these fine food hubs